In a year where our vocabulary has extended to include 'the R-rate', lockdown, social distance, furlough, self-isolation and the dreaded Zoom, we have taken the opportunity to revise and refocus our Sustainable Fitness offering to best support your requirements and needs as we move in to a post-COVID world. As part of this relaunch, I am absolutely delighted to announce the latest addition to the Sustainable Fitness team: Physiotherapist Francesca McPhedran… Fran to us.
Fran is an Upton Cheyney local, a fitness enthusiast, a family chief in charge of three young children and one bouncy Labrador, an advocate of the great outdoors and a boundless optimist. Fran qualified as a physiotherapist in 2003 with a first-class degree from the University of Manchester and since that time, has worked in both the NHS and overseas. Fran has worked in hospital, community and outpatient settings, treating adults with musculoskeletal and complex neurological conditions. She brings with her a vast wealth of knowledge and invaluable experience.
Click here to check out Fran's full bio.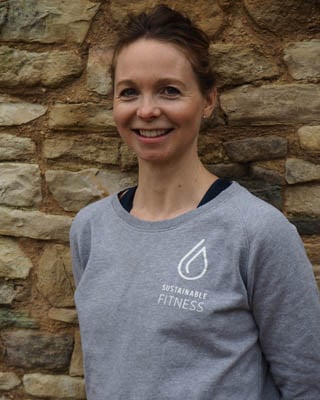 Whilst the usual Sustainable Fitness services remain (including personal training, soft tissue therapy, sports & remedial massage and group fitness classes), we are delighted to announce our new physiotherapy assessments and our combined offering: physiotherapy-led personal training and fitness classes.
By combining our knowledge and experience, we will be offering unique, tailored and medically informed packages of support, tailored to your individual requirements. Each package will be underpinned by enhanced clinical assessment, with a programme of activity developed by myself and Fran, specifically for you. We will provide you with a Sustainable Fitness Kick Starter Pack, containing all the equipment you'll need to complete your programme, and will discuss with you a schedule of sessions (both in person and to complete on your own) to help you achieve your fitness goals.
Depending on your specific aspirations and once you feel confident in your progress, there may be opportunity to progress from your individualised programme to a wider maintenance programme with weekly group exercise classes, 1:1 drop-in sessions and periodic physio-led reviews to support you on your way.
Whilst our physio-led personal training and fitness classes are suitable for all, they may be of particular value to:
Those returning to exercise after a prolonged period of inactivity, including those who have anxieties or concerns about how to do this in a safe and sustainable manner;
Those recommended to become more active by GP, friends or family (e.g. for pain management, weight-loss, stress management, anxiety etc.);
Those with underlying health conditions for which exercise is recommended as part of the management or control (e.g. neurological conditions, high blood pressure, diabetes etc.); and
Those awaiting orthopaedic/elective surgeries who have been advised to remain active in the run up to the operation (e.g. awaiting hip/knee replacement etc.).
Click here to find out how physiotherapy led personal training would work for you.